The wiki devoted to the Counter-Strike series that anyone can edit.
2,224 articles and 22,619 images since created on July 15, 2005
Games
Content
Latest Update
Mission
The primary mission of the Counter-Strike Wiki is to collect information that will be useful to people who are new to the Counter-Strike series and even those who are familiar with the games. This wiki serves as a network of user added and editable information for the main games in the series.
About
The Counter-Strike series is a popular team-based first-person shooter video game series originating as a modification of Valve's first-person shooter Half-Life. The gameplay consists of a team of Counter-Terrorists against a team of Terrorists in rounds of competition won either by completing an objective or completely eliminating the opposing team.
They have been the most widely played online first-person shooters for the past several years. As of August 2011, the series has sold over 25 million units since the original release of Counter-Strike.
Helping out
Not sure where to start?
Not sure how to help?
Top 10 contributors
Loading...
Admins
Active Bureaucrats
Active Administrators
Affiliated Wikis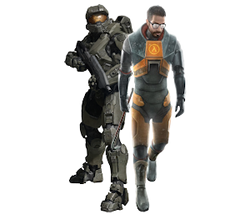 Community
CS:GO Twitter
News

Irv1n3
•
You can now follow the Wiki on Facebook and Steam!
Counter-Strike updates and important Wiki changes will be announced on social media too, so don't hesitate to like our Facebook page and join our Steam group.
Of course, these new places are also open to discussions and exchange between users, but as…
Mroosa
•
The purpose of the Counter-Strike Wiki is to give the Counter-Strike community a place to view and contribute information about the series. The community as a whole is responsible for ensuring the information is as accurate as it is informative. Our job as admins is to make sure the information follow…
Mroosa
•
As we are pulling together our Wiki Policies, we are always on the lookout for solutions to make things simple for members of the community to add and edit content on this wiki. One of the things we noticed as we continue to edit content is the inconsistency of rarity colors. Generally, it is the r…
More news...