Operation Breakout
« Operation Phoenix
Operation Vanguard »
Release date
July 1, 2014
Completion date
October 2, 2014
Maps
Black Gold , Castle , Insertion , Mist , Overgrown , Rush
Weapon Case
Operation Breakout Weapon Case
Weapon Collections
Baggage, Cobble, Overpass, Cache
Source
Operation Breakout Page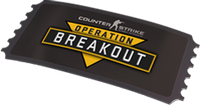 Operation Breakout was the fourth Counter-Strike: Global Offensive operation, following Operation Phoenix. It was introduced on the July 1, 2014 update at the original price of $5.99 USD/€4,99 EURO and concluded on October 2, 2014.
Overview
Operation Breakout featured 6 new community maps, 3 exclusive weapon collections (Baggage, Cobble, and Overpass), an operation themed weapon case, the addition of operation missions and the Operation Journal. After the ESL One Cologne 2014 tournament, the Cache collection was also made available as a potential mission reward collection.
Maps
Hostage Rescue
Bomb Defusal
Operation Breakout Coin

Unlike previous operations, the Operation Breakout Coin now tracks the player's mission completions in addition to competitive highlights on operation and active duty maps during the operation.
Badge Progress
Bronze: Purchase the pass
Silver: Complete 5 missions
Gold: Complete 15 missions
Operation Missions
Introduced in Operation Breakout, the operation missions task the player with a goal to complete and reward the player with a random skin from one of the exclusive Operation Breakout weapon collections during the operation.
Operation Journal
Also introduced in Operation Breakout, the operation journal contains information about the player, the player's statistics during the operation and provides the player with a quick field guide of the featured maps.
Trivia
The Counter-Terrorists featured in the title image are using a P90 |

Asiimov

and a UMP-45 |

Labyrinth

from the Operation Breakout Weapon Case and are standing in front of the house from the featured map, Insertion.
Operation Breakout was the first operation to not be extended past the scheduled expiration date.
Update History
External Links
References
Counter-Strike: Global Offensive
Operations

Operation Payback
•

Operation Bravo
•

Operation Phoenix
•

Operation Breakout
•

Operation Vanguard
•

Operation Bloodhound
•

Operation Wildfire
•

Operation Hydra
•

Operation Shattered Web
Operation Breakout
Maps
Collections
Community content is available under
CC-BY-SA
unless otherwise noted.