Operation Broken Fang
« Operation Shattered Web
Release date
December 3, 2020
Completion date
April 30, 2021
Maps
Ancient , Apollo , Autumn Harvest , Elysion , Engage , Frostbite , Guard
Weapon Case
Broken Fang Case
Weapon Collections
Broken Fang Agents, Havoc Collection, Control Collection, Ancient Collection
Game Modes
Retakes, Broken Fang Premier
Source
Operation Broken Fang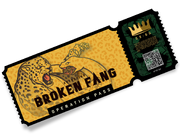 Operation Broken Fang is the tenth Counter-Strike: Global Offensive operation, released on December 3, 2020, succeeding Operation Shattered Web.
Overview
Operation Broken Fang was released on December 3, 2020 for the price of $14.99 USD/€12.75 EUR/£11.49 GBP

. This Operation introduced the Retakes mode and an alternative 5 versus 5 competitive mode named the Broken Fang Premier mode which added map picks and bans and was exclusive to players who brought the operation.
Maps
Bomb Defusal
Hostage rescue
Wingman
Danger Zone
Other maps
Operation Broken Fang Coin
Coin Progress
Bronze: Purchase the pass
Silver: Obtain 33 stars
Gold: Obtain 66 stars
Diamond: Obtain 100 stars
Leveling Requirements
Similar to Operation Shattered Web, Operation Broken Fang features a battle pass format. The player earns stars for completing weekly missions which they can spend in the Operation Broken Fang Shop. The shop contains a variety of Agents, Weapon skins, stickers and graffiti which the player can choose to purchase with their stars. A maximum of 6 stars can be earned per week except for week 1, where a maximum of 10 stars can be obtained. Any additional progress towards missions will be granted as an XP boost. A player can purchase stars though these will not contribute to their Operation Broken Fang Coin progress.
Coin Levels
Trivia
The missions for Operation Broken Fang have many references to culture, media, and commonly used terms. As of Week 5, here are the references:
Each mission for Week 1 (START YOUR ENGINES) references car terminology such as Mass Production, Under the Hood, and Clutch Control
Each mission for Week 2 (MOON SHOT) references the Apollo missions
Each mission for Week 3 (RANGEFINDER) is Sniper terminology
The Week 3 mission Through the Looking Glass is a reference to the book of the same name, the sequel to Alice in Wonderland
Each mission for Week 4 (FULL-TIME JOB) references work/business terminology such as Get A Head Start and Short Term Investment
The Week 4 mission Cash Rules Everything Around Me is a term originating from the song C.R.E.A.M. by the Wu-Tang Clan
Each mission for Week 5 (SLEIGHT OF HAND) references magic terminology such as Keep Your Secrets and Smoke Show
Gallery
References
Counter-Strike: Global Offensive
Operations

Operation Payback
•

Operation Bravo
•
Operation Phoenix
•

Operation Breakout
•

Operation Vanguard
•

Operation Bloodhound
•

Operation Wildfire
•
Operation Hydra
•

Operation Shattered Web
•
Operation Broken Fang
Operation Broken Fang
Maps
Collections
Campaigns
Community content is available under
CC-BY-SA
unless otherwise noted.