Dead Cells Final DLC - The Loop
Play Sound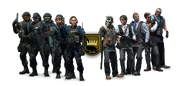 Premier Competitive is a game mode in Counter-Strike: Global Offensive introduced as part of Operation Broken Fang in the December 3, 2020 update, originally named Broken Fang Premier and intended to be exclusive to the operation, but kept due to its popularity. Prior to the March 29, 2021 update, the game mode was only available to those that had bought the Broken Fang Pass, but following said update it was made available to all players.
Overview
In Premier Competitive, teams who play are loaded into a veto system where they ban and pick maps similar to professional level. At the start, each team votes to either ban two maps or pick if they start on the Counter-Terrorist or Terrorist side. Console damage reports are disabled. Standard Competitive rules apply as penalties will be distributed to those who abandon the match.
Maps
Only maps from the Active Duty group are available as of the December 3, 2020 update:
Veto System
The veto system works on the votes of the team rather than a captain system. Everyone in the team can vote for certain options, and it is decided based on where the majority of the votes were cast.
| | To Do | Time Given (seconds) |
| --- | --- | --- |
| Phase 1 | Ban first or later | 12 |
| Phase 2 | Ban 2 maps | 25 |
| Phase 3 | Ban 3 maps | 25 |
| Phase 4 | Ban 1 map | 25 |
| Phase 5 | Pick side | 12 |
| Phase 6 | Starting match | 10 |
Trivia
Premier loads a map called 'lobby_mapveto' to do the veto process.
The Counter-Terrorist cinematic room is the same as the starting room in Autumn Harvest & Cultivating Trouble.
The warmup arenas appear to be a reference to the film Dr. Strangelove as the room looks extremely similar to a scene in the movie.
Gallery
Game modes

Counter-Strike
Xbox
Condition Zero
Source
Global Offensive
Other