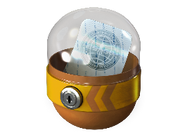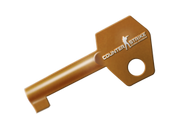 The Sticker Capsule 2 is the second sticker capsule released. It is a dropped item containing a random sticker to be applied to a weapon skin and requires a CS:GO Capsule Key to open.
Contents
Banana

Bomb Code

Chicken Lover

Good Game

Good Luck

Have Fun

Let's Roll-oll

Metal

Nice Shot

Welcome to the Clutch

Bish (Holo)

Bash (Holo)

Bosh (Holo)

Let's Roll-oll (Holo)

Crown (Foil)

Stupid Banana (Foil)
Trivia
The Let's Roll-oll sticker refers to a sound glitch in Competitive Classic matchmaking after all players hit the ready button.
The term Clutch in Welcome to the Clutch usually refers a situation where there is one player left on a team and that they are up against 3 or more players that are (still) alive.
When you scrape the Welcome to the Clutch sticker, it will start to say "Welcome to Hell" with skulls on the bottom. [1]
The Banana and Stupid Banana stickers refer to an area named Banana in Inferno which connects from the Terrorist spawn zone to Bombsite B.
The Bish, Bash, and Bosh stickers are a reference to a quote from the SAS faction, "Bingo Bango Bongo, Bish Bash Bosh", which became a minor meme.
References
Community content is available under
CC-BY-SA
unless otherwise noted.