Training refers to multiple single-player maps throughout the Counter-Strike series that functioned as tutorials as well as the scenario itself.
Counter-Strike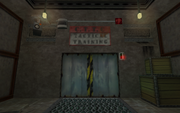 In this course, the player is taught basic tactics and needs to complete simple tasks. The tasks include hostage rescue, bomb defusal and bomb planting. The training is divided into 7 stages, built from 4 maps. It was only included in the retail version of Counter-Strike, and was removed when the game was transferred to Steam.
Counter-Strike (Xbox)
The Xbox version of the game includes two separate training maps, one covering the hostage rescue scenario and the other covers the bomb defusal scenario.
Counter-Strike: Condition Zero Deleted Scenes
For Counter-Strike: Condition Zero Deleted Scenes, there is a special optional training course for the game, incorrectly called Counter Terrorist Training. It expands the training map from Counter-Strike and includes more basic training, mainly because many mechanics in Deleted Scenes are different than any other Counter-Strike game mechanics.
Counter-Strike: Global Offensive
Known as the Weapons Course, the player is advised with basic gameplay tactics such as recoil, penetration and grenade usage tips. There is a final timed course that allows the player to sharpen their skills and be prepared for the actual game.
External links
Game modes

Counter-Strike
Xbox
Condition Zero
Source
Global Offensive
Other

Training
Community content is available under
CC-BY-SA
unless otherwise noted.